Civil Society Review
Issue 4
Challenging "Migration Governance" in the Middle East and Turkey: Dynamic Power Relations, Contested Interventions, and Individual Strategies
The papers gathered in this special issue of the Civil Society Review, both explicitly or implicitly, challenge the way in which migration is "governed" in the Middle East and Turkey. They explore how agency is articulated, shaped, and continuously adjusted in migration processes. The outline of the issue is organised along three levels of analysis, namely subnational, individual and national or supranational, respectively. The first section, "Rethinking Top-Down Humanitarianism: Roles and Constraints of Solidarity Networks and Local Level Interventions," challenges the top-down character...
Research & Reports
Localising migration governance in the Middle East region. Towards human rights based policies and interventions
This policy brief builds on Lebanon Support's transformative and interdisciplinary research on migration, mobility...
Research & Reports
Global Migration: Consequences and Responses
This report provides a contextual analysis of the provision of refugee protection in Lebanon. It highlights the absence of a comprehensive refugee protection legal framework, in favor of a  set of formal and informal ad hoc policies, which are limited in scope and inclusivity. While the Lebanese polity is a signatory of international conventions calling for non-discriminatory protection, and non-refoulement, it falls short in practice with...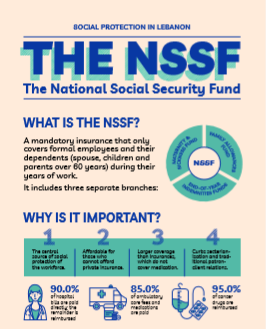 New infographic
Part of our ongoing research on socio-economic rights and social justice in the region, we are developing a series of visuals that present insights and recommendations in a user-friendly and accessible manner.
This infographic, on Lebanon, provides an overview of the National Social Security Fund (NSSF), that covers workers in the formal sector, excluding informal workers, but also the unemployed, the self-employed, and retirees. It offers targeted recommendations for reforms, namely developing a unified and universal security framework, that are especially needed in these times of acute crises in Lebanon.
Research & Reports
Lebanon's Border Regime: Fluid Rigidity, Foreign Interference, and Hybrid Security Assemblages
This report seeks to analyse border and migration governance in Lebanon; it provides an overview of legislation and policies concerned with border management and control in Lebanon, by systematically analysing pre-entry controls, controls at the border, internal control regimes, and return policies. Moreover, by examining the role of national and international actors in migration and border management in Lebanon, the report also aims to shed light on geopolitical factors and the impact of foreign interventions to local governance and sovereignty, as well as underlying complex dynamics...